We start on a work morning. Anne Hathaway's character Andrea arrives at an interview met with an icy gallery of rogues who live and breathe fashion. Andrea, we find out quickly, does not. Despite lacking all the seemingly necessary qualifications, she is accepted and begins work as the second assistant to Meryl Streep's Miranda Priestley; crown-princess of the empire that is Runway Magazine.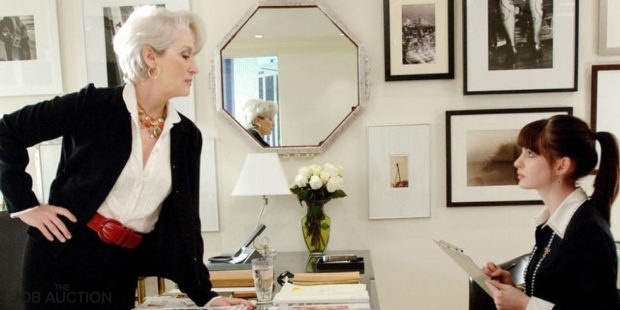 The film itself intrigues because Andy is immediately the subject of the audience's sympathy; it lures you into pitying the poor aspirant journalist at the mercy of her quietly draconian boss. As she turns to other staff members at Runway for assistance, however, she only receives blank stares or harsh words. She is reminded that she has waltzed into a position where she is literally within touching distance of fashion's greatest minds. Her colleagues working tirelessly for their positions, worshipping the floor Miranda walks on, just to be a part of the world they love so much.
What makes the struggles of Emily and Nigel (played by Emily Blunt and Stanley Tucci respectively) so heart-rending is for all their efforts, Andy is picked as the heir to the throne, given access to parties and gatherings full of the rich, the influential, and the legendary.
However, these are the characters you come to respect the most, because despite some momentary flickers of disbelief, as the carpet is pulled from under them, they are thoroughly professional, loyally carrying on in servitude of their trusted leader, Priestly. Their superhuman 'business as usual' resilience really is admirable.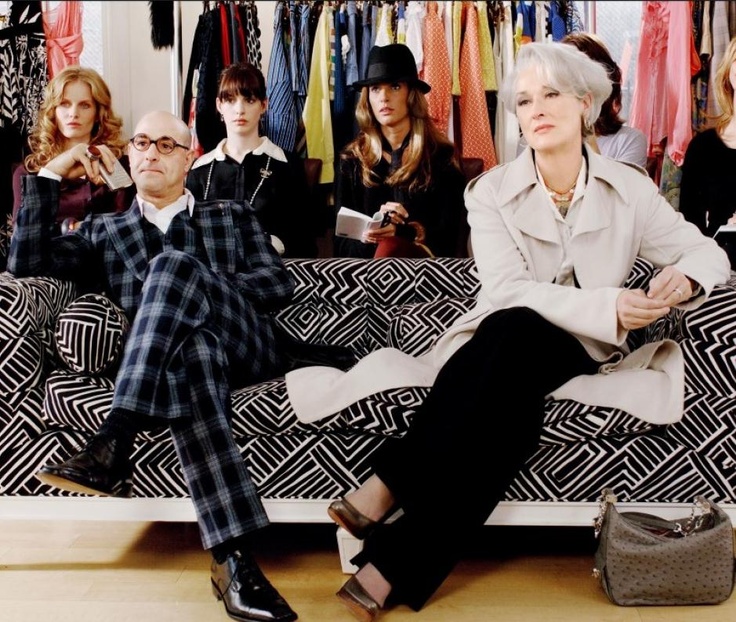 There is a scene where Andy scoffs at the Runway team as they attempt to choose between two near-identical belts. Priestley's response, illuminating the difference whilst concurrently explaining the fashion industry's eternal relevance, and how each person, whether they are aware of it or not, uses clothes to express themselves could be taken right off the screen, and used to dispel the fashion industry's many critics of it as a 'flaky' and 'shallow' world.
Andrea's transformation from apathetic PA to apparent miracle worker is a double-edged sword. We watch as she steadily alienates her old group of friends, choosing the high life and her work schedule over a comfortable social life. The audience is never really told what to think of Andy's choice to continue with her baptism of fire, presenting the difficulty of balancing a social life and a career.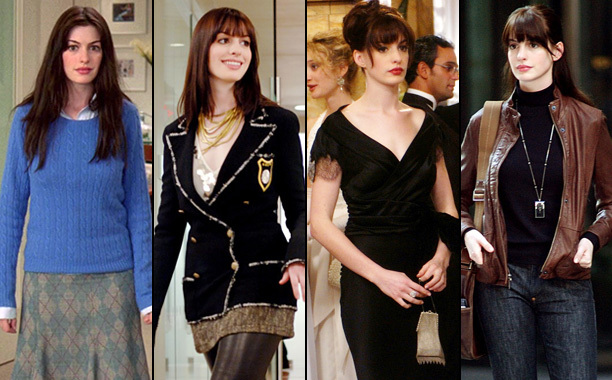 I think the assertion made by her boyfriend Nate (Adrian Grenier) that she has 'sold her soul' is a little melodramatic. Andy's willingness to stick out a job she essentially hates to earn money with just the slightest chance she may network with some prominent people is fruitful. It teaches her about fashion and she develops her own sense of style, as well as respect for an industry she would have otherwise known nothing about.
The Devil Wears Prada is a film about passion and about patience. It's left open-ended with Andy finally quitting as Priestley's assistant, having learnt a lot about herself, not explicitly telling the audience what to make of any character arc or plotline. If you take anything from the film, though, it should be that no experience is a worthless experience and that change, really, should be embraced.